Toyota in Dash GPS/Multimedia unit
This unit upgrade will fit most Toyota vehicles. De-clutter technology with all the features you want in one place. This unit will suit most Toyota vehicles with Double Din Radio/Screen (measurements: 205mm x 100mm).
And looks completely factory fitted once it's installed. If you are unsure whether your model will fit, please give us a call.
The Toyota vehicles we know it will fit are:
Land cruiser 100 series 2002 and onwards (if your model is 2002, please check with Polaris)
Land cruiser 200 series 2007 – 2011 (some of the higher end models with the big screen will not be suitable)
Land cruiser 200 Series 2012 – 2015 (some of the higher end models with the big screen will not be suitable)
Prado 120 series 2003 – 2009
Prado 150 Series GX 2009 – 2013
Prado 150 series (GXL) – 2009 – 2013 Fascia required
Hilux 2005 – 2011
Hilux 2012 – 2013
FJ Cruiser 2007 – 2015
Hi ace 2004 – 2011
Hi ace 2012 >
You choose which maps the Polaris Toyota LUXX comes with.
At the time of purchase you can choose either the TomTom street navigation or the HEMA off road maps. We will preload the mapping onto a micro SD card and load it into the unit. The preloaded maps do not require any Internet connection for navigation.
Please let us know at checkout in the notes section which maps you would like the unit to come with. If there are no notes, we will load the unit with TomTom street navigation.
Want both maps on the unit? Simply tell us which maps you want standard and then order the additional maps:
The unit comes preloaded with the Google maps app.
You can choose to use the Google maps app that comes as a standard feature but you will require Internet connection to navigate. You can connect to Wi-Fi or your phone's personal hotspot for Internet connectivity.
It's got all of your standard features.
The Toyota LUXX has AM/FM Radio, CD player and 2 USB inputs, which is perfect for listening to music or watching your favorite movies/shows.
It has Bluetooth.
The Toyota LUXX comes with Bluetooth built in for hands free phone calls, importing contacts and streaming music.
The Toyota LUXX is plug and play
The Toyota LUXX will plug straight into your vehicles wiring.
The Toyota LUXX comes standard with a Reverse Camera
No more backing into things with a Polaris reverse camera.
A Polaris reverse camera not only makes reversing a breeze but it ensures that you can see clearly behind your vehicle when reversing.
You can add more cameras.
The Toyota LUXX has a front camera input ready to go which is great for keeping an eye out for any unpredictable terrain that could be dangerous or cause damage to your vehicle whilst off-roading or Parking!
If you have a caravan or trailer you can also add a rear camera to the rear of it for reversing or to watch what is going on behind your caravan whilst driving in built up areas.
The caravan/trailer kit comes with all the additional parts required including a professional cable kit with a curly cord that connects back to the vehicle.
You can add more apps onto the Toyota LUXX
Don't like any of the navigation apps that we offer? Download your preferred mapping app via the Google play store onto the Toyota LUXX. Want to stream music via Spotify? Download it straight onto the head unit, log in and sing until your hearts content. Change this unit to suit your interests and tastes.
The screen size is 7 inch.
Perfect size for a factory looking unit.
You can add Car Play or Android Auto.
We sell an addon dongle that will allow you to use Apple Car Play or Android Auto (depending on the type of phone you have). Both apps were designed to let you use certain apps from your phone on the head unit for safer driving. Think of it as like an extension of your phone but limited to certain apps such as: maps, messages, music apps and podcasts.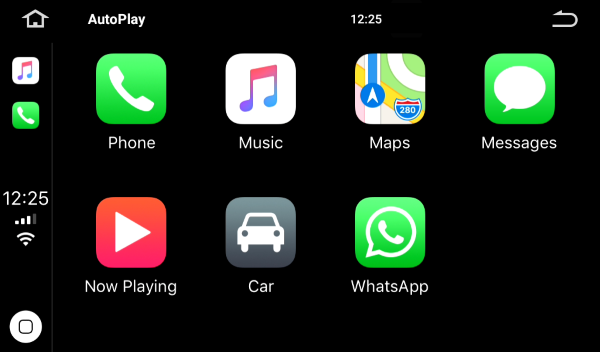 Yes you can still use your iPhone even though it is an Android head unit.
Even though the unit has android operating software, this doesn't mean that you can't use your iPhone with the Toyota LUXX (and no you don't need to buy the Car Play dongle). Your iPhone will still connect via Bluetooth for Hands free functionality and most of the apps that you use on your iPhone can be downloaded directly on the head unit itself. Apps such as Apple music, Spotify, Waze and much more can all be added to the Toyota LUXX.
It has a 3-year warranty
You can ensure that you have purchased the right product with Polaris because if anything goes wrong, you are covered with a 3-year warranty.
Contact Cartronics 2U for all types of automotive electronics. We come to you for professional installations in and around Brisbane.